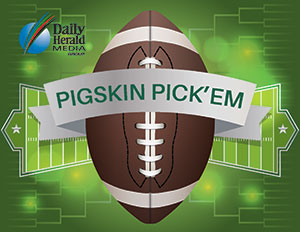 Football season is right around the corner and Pigskin Pick'em is back to help you win weekly prizes while scoring bragging rights!
Pigskin Pick'ems is completely free to play and gives you the opportunity to play against VIP pickers to test your skills during the full 21-week football season. You can even create private groups to play against co-workers and friends! Whether your a Chicago Bears fan or a fan of other pro teams, you can get in the game each week at Pigskin Pick'em.
Grand prizes include a trip for two to Hawaii and 1st, 2nd, and 3rd prizes up to $185 value.
If you have already played Pigskin Pick'em or March Fever, login with your registered account.
If you are a new player, register easily by clicking here.
Good luck!
---
Sponsored by: